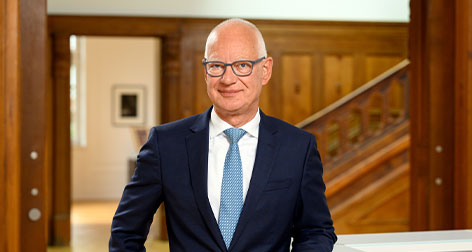 THE PERSON
Thomas Austmann, lawyer, is a partner at Austmann & Partner.
Thomas Austmann has extensive experience in national and international M&A and capital market transactions, and in corporate and property succession. He primarily advises on stock corporation law, transformation law, takeover law and capital markets law.
Prior to working as a lawyer, Thomas Austmann was company secretary and general counsel at one of the leading listed financial services groups in Europe. In addition to his legal studies, he also trained as a banker, as well as completing an economics degree and an MBA.
For several years, Best Lawyers and the Handelsblatt have named him as one of the top business lawyers in Germany (most recently in Handelsblatt – Germany's Best Lawyers 2013).
Thomas Austmann is a member of the Federal Expert Commission "Family Enterprises and Medium-Sized Businesses" of the German Council of Economic Advisers (Wirtschaftsrat Deutschland).
Professional career
Since 2012 – Partner at Austmann & Partner, Düsseldorf
2007–2012 – Partner at Allen & Overy LLP, Düsseldorf
2001–2007 – Partner at Freshfields Bruckhaus Deringer, Düsseldorf
1998–2001 – Associate at Bruckhaus Westrick Heller Löber, Düsseldorf
1994–1997 – General counsel at Aachener und Münchener Beteiligungs AG, Aachen
1993–1995 – Head of executive secretariat at Aachener und Münchener Beteiligungs AG, Aachen
1990 – Executive assistant at Volksfürsorge Holding AG, Hamburg
Academic career
Second state examination (Zweites Staatsexamen), Germany, 1993
MBA in economics, University of Wales, UK, 1992
First state examination (Erstes Staatsexamen), Germany, 1990
Diploma in economics (Dipl.-oec.), FernUniversität Hagen in Hagen, Germany, 1986
Law studies at the University of Münster and University of Hamburg, Germany
Memberships
BRSI e.V. (Bundesvereinigung Restrukturierung, Sanierung und Interim Management e.V.)
Düsseldorf Law Society (Rechtsanwaltskammer Düsseldorf)
German Jurists' Association (Deutscher Juristentag e.V.), Bonn
German Council of Economic Advisers (Wirtschaftsrat Deutschland), Berlin
Diplomatic Council
Member of the Supervisory Board of Setlog Holding AG, Bochum
Languages