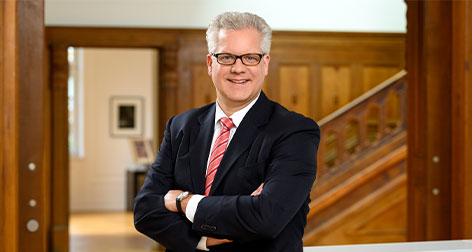 THE PERSON
Dr. Norman Kulpa, German qualified lawyer and certified specialist on commercial and corporate law, is partner at Austmann & Partner.
Dr. Norman Kulpa has extensive experience in providing legal advice to national and international clients with regard to M&A transactions, corporate restructurings and joint ventures. His focus is the advice on corporate law and company group law matters (especially German limited liability companies law and partnership law as well as German limited liability company group law) of corporates as well as their bodies (especially with regard to the duty of care and the limitation of liability).
Professional career
since 2017, partner at Austmann & Partner, Düsseldorf, Germany
2015-2016, Senior Manager at KPMG Law, Essen, Germany
2012-2015, Senior Associate at Jones Day, Düsseldorf, Germany
2007-2012, Associate at Simmons & Simmons LLP, Düsseldorf, Germany
Academic career
Certified specialist on commercial and corporate law (Fachanwalt für Handels- und Gesellschaftsrecht), 2011
Second state examination (Zweites Staatsexamen), Germany, 2007
Doctor of law (Dr. iur.), Paris Lodron Universität Salzburg, Austria, 2004
First state examination (Erstes Staatsexamen), Germany, 2001
Law studies at the universities of Osnabrück, Germany as well as Georg-August-Universität Göttingen, Germany
Memberships
Düsseldorf Law Society (Rechtsanwaltskammer Düsseldorf)
German Bar Association (Deutscher Anwaltsverein (DAV) e.V.)
Association on Corporate Law (Gesellschaftsrechtliche Vereinigung Wissenschaftliche Vereinigung für Unternehmens- und Gesellschaftsrecht (VGR) e.V.)
German-American Lawyers' Association (Deutsch-Amerikanische-Juristen-Vereinigung e.V. (DAJV))
Indo-German Chamber of Commerce
German Council of Economic Advisers (Wirtschaftsrat Deutschland), Berlin
British Business Club Düsseldorf e.V.
Languages
Publications
Nils Krause / Norman Kulpa, Cross-boarder mergers – Against the Background of the "Sevic" decision and the reform in the German law on mergers (Grenzüberschreitende Verschmelzungen – Vor dem Hintergrund der "Sevic"-Entscheidung und der Reform des deutschen Umwandlungsrechts), ZHR 2007, 38-78
Norman Kulpa, The applicable (substantive) law in international commercial arbitration (Das anwendbare (materielle) Recht in internationalen Handelsschiedsgerichtsverfahren), doctoral thesis, Peter Lang Verlag, 2005
Markus Schmitter / Norman Kulpa, US-(re)exportcontrol (US-(Re-)Exportkontrolle), Computer und Recht 1999, 61-64